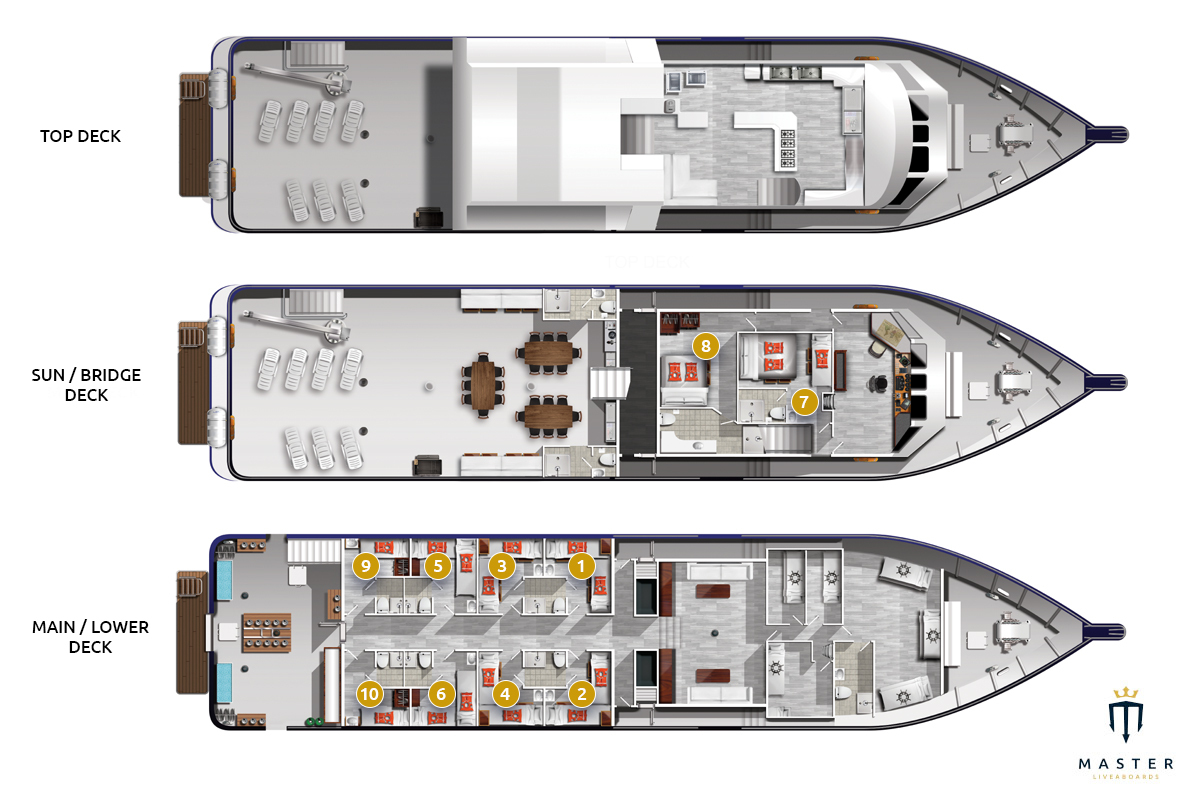 Bahamas Master has 10 well-designed cabins and can comfortably welcome 18 divers aboard. Guests can choose between 4 cabin types. There are 2 Premium cabins on the forward upper deck, with double beds and private en-suite bathrooms. On the main deck there are 2 Classic twin and 2 Classic single cabins, each with en-suite. Finally, also on the main deck, there are 4 Standard cabins sharing 2 bathrooms with heated showers. Most cabins have panoramic windows, so there is plenty of daylight and ocean view.
Communal relaxation areas are located on both on the main and upper decks. Towards the bow of the boat on the main deck you will find the indoor camera station with comfortable bean bags where you can show your photos on the TV. On the upper deck there is a spacious covered al fresco bar and dining area, as well as a sundeck with loungers for relaxing after the dives.
Dive equipment is set up and stored at the rear of the main deck. All guests are allocated an individual set up location, with under bench storage for masks, fins and other personal items. Dedicated rinse tanks for cameras and computers are provided.
The Bahamas Master Captain welcomes you to join him at the fly-bridge, from where you can soak up the stunning views of the Bahamian islands.
VHF ship to tender radios:
*All surcharges, including marine, park and port fees, are subject to change at any time, and without notice.
The applicable marine and port fees for your itinerary will be added to your onboard extras to be paid on the boat before disembarkation.
| | | | | |
| --- | --- | --- | --- | --- |
| | | | | |
| | | | | |
| | | | | |
| | | | | |
| | | | | |
| | | | | |
| | | | | |
| | | | | |
| | | | | |
| 13 Litre (AL100) cylinder | | | | |
| Extra 11 Litre (AL80) cylinder** | | | | |
*Full Equipment set includes: BCD, regulators, wetsuit, mask, booties & fins. Torch & computer are not included.
PLEASE NOTE: Shark dives in the Bahamas requires DARK COLOURED equipment (wetsuit, BCD, fins, boots, gloves and hoods). Light or brightly coloured and patterned are not acceptable for these dives.
Please refer to our Equipment Guidelines before travelling to check if your equipment is suitable, or not.
**Extra cylinder for twinsets only; side-mount diving is only permitted with one cylinder.
| | | | | |
| --- | --- | --- | --- | --- |
| 3 Litre (25 cuft) rebreather cylinder set* | | | | |
| 5.7 Litre (AL40) bailout/stage tank (with rigging) | | | | |
Please note: Sofnolime MUST be requested at least 8 weeks before departure. *Price will be confirmed at that time based on local supply costs.
| | |
| --- | --- |
| PADI Advanced Open Water Diver | |
| PADI EANx (Enriched Air Nitrox) | |
| PADI Deep Diver Speciality | |
| PADI Wreck Diver Speciality | |
| PADI Drift Diver Speciality | |
| PADI Night Diver Speciality | |
| PADI Peak Performance Buoyancy Speciality | |
| PADI AWARE Shark Conservation (incl. PIC) | |
| PADI Bahamas Shark Diver Distinctive Speciality (incl. PIC) | |
| PADI Speciality course manual and PIC* | |
*Please note that, with the exception of PADI Advanced Open Water Diver, AWARE Share Conservation and Bahamas Shark Diver Distinctive Speciality, the course prices listed above do not include course materials or certification registration. The required manual and PADI certification card (PIC) for speciality courses must be paid for in addition to the course price.
All courses are subject to availability and must be pre-booked.
Bahamas Master Polo Shirt
*WiFi prices start from 15 USD for 1 night (250 MB) and are based on duration and data package size. Please refer to Bahamas onboard extras for further details.
All on-board prices are subject to change without notice. While we try to keep all information as up to date as possible, prices may be different on your cruise.
Itineraries for Bahamas Master
Take a look at what our customers have said about Bahamas Master

Anon, Stockholm
Bahamas Master, January 2020
The experience of a lifetime for anyone who loves sharks. Up close and personal with Tigers, Hammers, Lemons, Bulls, Reefs and Nurses. The perfect trip to dispel any fear and prejudice we might have about this beautiful animal. The stellar guides will leave you with a new look on shark behaviour make you appreciate their vital role in our ecosystem. Can't recommend this trip enough.

Daniel, Luzern
Bahamas Master, April 2019
Many huge Tiger Sharks and Hammerhead sharks up close! Great feeding! Best place to dive with Tigersharks!

Shurl, Salzburg
Bahamas Master, April 2019
It was a great experience for me. I did not expect so much. The crew was amazing, Mike did a really great job, we loved it to be in the weather with him and the sharks...he lives for that job!

Michael Eisenbart, Horgen
Bahamas Master, April 2019
We saw so many tiger sharks which was an amazing experience! The diving was save all the time and the crew was helpful, friendly and professional. We even saw Patches, the friendly and playful great hammerhead shark!

Nicolas Turner
Bahamas Master, April 2019
Every member of staff were fantastic. They were all helpful, friendly and knowledgeable. They went above and beyond in every regard. The boat was beautiful and a pleasure to stay on. Tiger beach is the single best diving experience I have had.

Paul Christophory
Bahamas Master, March 2018
Great dive masters crew. We were lucky to have such a passionate dive masters crew that made the experience amazing!
Who wouldn't want to experience the sharks of the Bahamas?
Let our experienced and friendly reservations team reach out to you and help you plan your dream diving holiday in the Bahamas.